Register
In order to use the Compass you need to register with us and choose a password. If you have not yet registered with us please click here to do so – it only takes a minute.
Login
If you have already registered at www.redrouteinternational.com, simply enter your email address. You will need to set a password in order to use the Compass. If you haven't yet done so, please click here.
What you need to know,
when you need to know it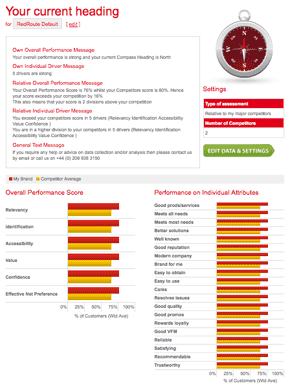 There are 20 key questions you can ask which will tell you how successful your company, your organisation, your product or your service is likely to be in the future.
To find out what they are, try out the Winner's Compass for free today.
How it works
The Winner's Compass let's you assess for yourself - and for free - where your 'offer' is in the eyes of your customers and potential customers and aligns those views into five key motivational dimensions that summarise your likelihood of success.
It therefore gives you an invaluable insight into the probable future success of your business with a straightforward rationale for why it's likely to turn out that way. Even better, because you know 'Why?', if you don't like the look of the outcome you will then know how to fix it.
Effective marketing is about connecting with customers. It's about offering the promise that you can satisfy customer needs better than your competitors. And it's then about delivering on that promise.
What's more, for commercial organisations it's about doing all this and then still making a profit at the end of the day.
So how do you know if you're getting that connection?
And are you delivering sufficiently well that your current customers will still be your current customers 12 months from now?
Clearly one way to judge is to look at your recent sales performance (or the number of enquiries, quotations, sign-ups etc that you are getting). If sales are growing then you must be doing something right, yes? Well, it depends. But if sales are falling then clearly something is wrong so you definitely need to know what the real issue is.
The problem with all these measures, however, is that by the time you can see the trends it may already be too late. So what other information can you look at to help you know that you are heading in the right direction long before you get there?
For centuries navigators have used the earth's magnetic field, reliable clocks, and the orientation of the stars to find their way through all kinds of weather.
For marketers, their North Star should always be their customer's opinions of their company, brand, organisation, product, service or whatever it is they are delivering to fill a need.
These opinions tell you what the people who are going to use whatever it is you are offering really think about your offer and hence whether they are likely to use it in the future.
This knowledge is one of the most valuable business insights you can have.
The Winner's Compass
The Winner's Compass is easy to use and helps you see where your own North Star is and whether you are heading towards it, away from it, or just going sideways.
Moreover, it gives you some diagnostics to help you see what may be causing problems and / or lets you see how far ahead of your competition you are. So you know whether you need to climb a mountain, ford a stream, or can just sit back and enjoy the ride.
Like a real compass, it can only ever help you get your bearings, but by knowing the direction to head in, combined with diagnostics that describe the lie of the land, you can navigate your way with greater certainty and confidence than your competitors.
And that knowledge is always something worth having in your pocket!
Try it for free today!
Enter your email address, choose a password and you can try out the Compass yourself for free. Imagine what your customers might be saying about your brand right now across all the key dimensions that will determine their likelihood to use you. Then see what Compass heading is suggested for the future direction of your brand, company, organisation or service. You could find some insight that could well be valuable!
Disclaimer: The Winner's Compass is the property of RedRoute International Limited (RRI). Use of the tool is not controlled by RRI and any results given by this tool are intended only as an indication of marketing strengths and weaknesses and are not guaranteed to be either an accurate or fair reflection of any particular brand, market or service situation . The results produced by the tool are reliant entirely on the information input by the user for which RRI cannot be held responsible in whole or in part. RRI are not responsible for any decisions made on the basis of the results produced by the tool. Usage of the tool will be deemed to be an acceptance of these terms and conditions. © RedRoute International Limited 2011.